Dextrose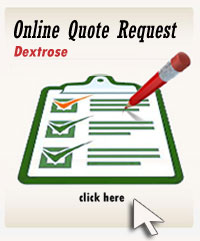 Dextrose is a sugar derived from corn and a lot of the corn is genetically modified so because of that, dextrose is not suitable for organic production. But it supplies carbons of soluble carbon and it's very valuable when mixed in with foliar sprays to spray on crops. It's also very valuable when mixed in with liquid nitrogen. Dextrose has a very valuable role to play in supplying the sugars that feed the bacteria as the bacteria are just beginning to break dormancy and get active in the soil.

Dextrose is very soluble in water, it dissolves very quickly and easily, better than sucrose which is table sugar. It works very well.

Typical rates when we're spraying it on the soil would be 5-10 lbs per acre. If foliar spraying we use about 3 lbs. per acre.

Dextrose comes in 50 lb. bags and we stack them up on a pallet. A pallet is 56 bags, but we can make it less if we need to. We can supply it by the pallet or by the semi load of pallets.
Receive alerts on availability of products & price changes.
International Ag Labs
800 W. Lake Ave.
PO Box 788
Fairmont, Minnesota 56031