Liquid Ammonium
Phosphate 10-34-0
Liquid Ammonium Phosphate 10-34-0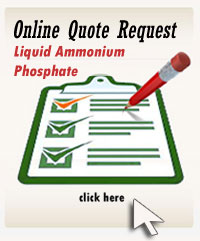 10-34-0 is a liquid ammoniated phosphate. It has 10 units of nitrogen and 34 units of phosphate and of course 0 units of potassium. It's very frequently used in a starter where it can be mixed with other components such as microbial innoculants, and some liquified sugar or molasses. It could even include some additional nitrogen.

It's usually put near the seed or a little off to the side, we typically recommend 2 1/2 inches over and 2 1/2 inches down from the seed. That's known as 2 X 2.

10-34-0 is phosphate that is in a polyphosphate form as opposed to orthophosphate. And what that means is that certain phosphate molecules are joined to each other. They're joined together, therefore as is, the plant doesn't immediately take it up but there has to be a chemical reaction caused by biology to separate the phosphate from itself to make it an ortho so it's all by itself.

So take precaution with 10-34-0 because it's 100% polyphosphate and it takes microbial activity to break it apart. It's a good idea to put in a biological innoculant and a starter. It's also very good to put in a liquid sugar and then some things that stimulate the bacteria. So some things that could go in there would be a product called RL37, it's a liquid humate, and also a little bit of liquid B12, a very small dose, let's say 30 ml per acre is a good rate to use. It's just a good stimulant for bacteria.

One other ingredient that goes very well with 10-34-0 that a lot of farmers don't choose to use (but if they do they can get some very good results) is to put in some liquid fish in addition to the 10-34-0. It's a very good addition and it pays really well. You just have to have the equipment to handle it and the patience to mess with it.

10-34-0 is also used as a base product to make some 9-18-9, so 9-18-9 can have some 10-34-0 in it. And if it's got some in it, it won't be a clear liquid because the 10-34-0 is colored. So a lot of times the 10-34-0 provides some polyphosphates in a polyphosphate-orthophosphate mix in the 9-18-9.

There are different grades of 10-34-0. A good grade is clear, but most of the time you get a green-colored 10-34-0 and ocassionally a black 10-34-0 which isn't a good quality. You don't want the black. Green is acceptable, but clear is of the best quality.
10-34-0 is available in bulk semi load. We can supply approximately 4,000 gals. per semi. It would need some tank storage to be delivered to farmers.
Receive alerts on availability of products & price changes.
International Ag Labs
800 W. Lake Ave.
PO Box 788
Fairmont, Minnesota 56031